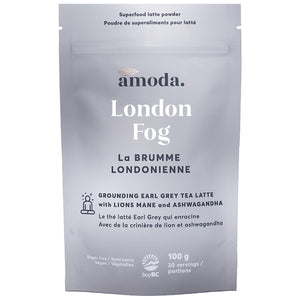 GROUNDING EARL GREY TEA LATTE WITH LIONS MANE AND ASHWAGANDHA
Our London Fog is a deliciously creamy, vanilla earl grey tea latte made with premium Indian black tea, coconut milk powder, sweet vanilla and bright bergamot. This blend helps you find a sense of presence, feel grounded and get focused anytime, especially during times of stress.
Feel more grounded and calm, even on the most stressful of days. 

Get into a relaxed state of flow while at school, work or WFH.

Boost your energy, concentration, and memory.

We've added adaptogenic ashwagandha for its ability to ease stress and mental exhaustion, to ground you and for its general restorative nature. We've added Lion's Mane to help to get you focused, improve concentration and memory and enhance energy. Restore your overall wellbeing and rejuvenate the mind. Pure comfort with every sip.


Stir into hot water for an earl grey milk tea, or mix with foamed milk for an extra creamy latte. Sweeten to give the bergamot and vanilla extra pop. 
Ingredients: Coconut milk powder (contains tapioca maltodextrin)*, black tea extract*, lion's mane extract*, ashwagandha powder*, carob powder*, natural vanilla and bergamot flavour*.  *organic