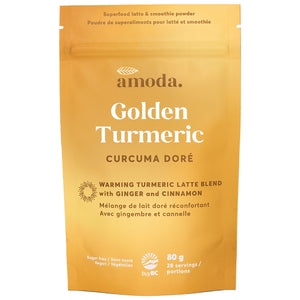 Our best-selling blend! Golden Turmeric is a potent and warming anti-inflammatory blend of spices that helps with muscle recovery, digestion, immune support and reducing inflammation throughout the body. This blend is packed with antioxidants, helps lift your mood and your energy levels. Great as a tea, turmeric milk, latte or smoothie booster. Makes the best tasting golden milk you will ever have. Just mix together with your favourite milk. No sweetener needed with this blend! Pair with a healthy fat for best absorption.
Try it:
1 teaspoon Golden Turmeric
2 teaspoons coconut manna/butter or oil
8-10oz of hot water or hot nutmilk
Sweetener of choice (optional)
Blend on high for 20 seconds
Current batch: 5-6% curcumin. 25 servings per 70g pouch based on 1 tsp serving size.
Formulated based on Chinese Medicine Principles with Vivien Hsiung R.Ac.
What's In It: 
All Organic Ingredients: turmeric powder, fennel powder, true cinnamon powder, ginger powder, anise seed powder, raw vanilla powder, black pepper powder.